We cover the whole of the UK
Composite Back Doors supply only or fully fitted
Our fully fitted composite back doors provide a high-quality, secure, and thermally efficient door with the aesthetic of a timber alternative.
We can supply rear doors supply only or fully fitted, with online ordering and finance up to £2,000 for certain products available at checkout. Finance applications are completed online at checkout and give instant online approvals.
All our doors come complete with a 4-point auto-fire locking system that keeps your home secure whether in or out of the house.
We fit all our composite back doors with top-rated 3-star ABS anti-snap locks to prevent home intrusions with anti-drilling, anti-snapping and anti-bump included in these top-rated locks.
The best rated locks available
3 Star anti-snap locks as standard
We only provide the latest, most secure locks with any of our doors as standard so that we know our customers are protected from lock snapping. They are anti-snap, anti-bump and anti-drill.
The only thing you need to do is decide if you would like to upgrade to 6 keys (from 3 keys) and have a thumbturn or standard key on the inside.
For back doors from Comp Door manufacturer, we use ABS 3-star locks.
Explore Our Huge Range of Colours & Designs
With our collection of composite back doors, you can ensure the security of your home with a design that does not compromise on style. Here at Value Doors, you can do both! Elevate the design of your home exterior while improving the safety and security of your property.
Our composite range makes incredible back doors. With a huge range of styles, designs, and colours to choose from, including Rockdoor, you can design your new external back door to ensure it looks just as good as your front door. With a composite back door to the rear of your property, you can look forward to the following features and benefits:
40 Different Back Door Styles

11 Colour Options, Including Dual-Colour Options

Unique Glass Designs
Flexible new door finance options for all budgets and households.
We offer a number of ways to pay for all our new doors, to make it affordable for any budget.
Finance with Klarna is available at checkout on fitted products, depending on criteria.
You can buy now and not pay a penny for 6 months on selected door ranges.
Pay over 3, 5, 7, or 10 years interest bearing finance, with fast approval decisions
You can pay by debit or credit card in full using our secure online checkout system.
Why Choose a Composite Back Door?
If you are looking for a strong and durable back door that looks great, then our composite doors are the right doors for you. No other product is matched on performance like a composite door.
The unique composition of materials makes them able to withstand impact and harsh weather conditions without wear and tear.
Unlike uPVC doors, which are entirely plastic, composite back doors are created with a strong timber core and a GRP (glass reinforced plastic) exterior. Composite also provides:
Traditional uPVC back doors are notorious for being draughty and not very well insulated. A thermally-efficient back door is essential to keep your energy bills minimal. Composite materials are better insulators, providing warmth and keeping your home warm throughout the winter. 
Our range of composite back doors is full of a variety of colours and glass designs to choose from. You can mix and match to find your perfect door. We will supply and fit our doors precisely to your doorway dimensions for a professional finish. 
Our doors and frames use a Glass Reinforced Polymer (GRP) skin to make the most durable door on the market. Not only do our composite back doors increase the security of the back of your home, but they also provide the aesthetic of a traditional wooden door.
Design Your Composite Back Door Online!
All of our composite back doors are available in various colour and design combinations. If you're undecided on the style you want, you can try out a few different designs with our online door builder. You can explore all of our composite back door colours, styles, glass designs, and frames with our easy to use door maker, trying as many combinations of our products as you need. This way, you know you will have the perfect back door for your home. Once you've decided on your final design, complete with any accessories you may want, we will send you a quote for the price! 
We'll Price Match Any Quote
We know how competitive the new door market can be. That's why we price match any quote you get elsewhere, like for like! Simply upload your quote online for the same style of door, and we'll see if we can match it.
If we fail to match your quote, we'll give you a free Amazon voucher worth £25.
Shop Our Composite Back Door Designs
Our Range of Composite Back Doors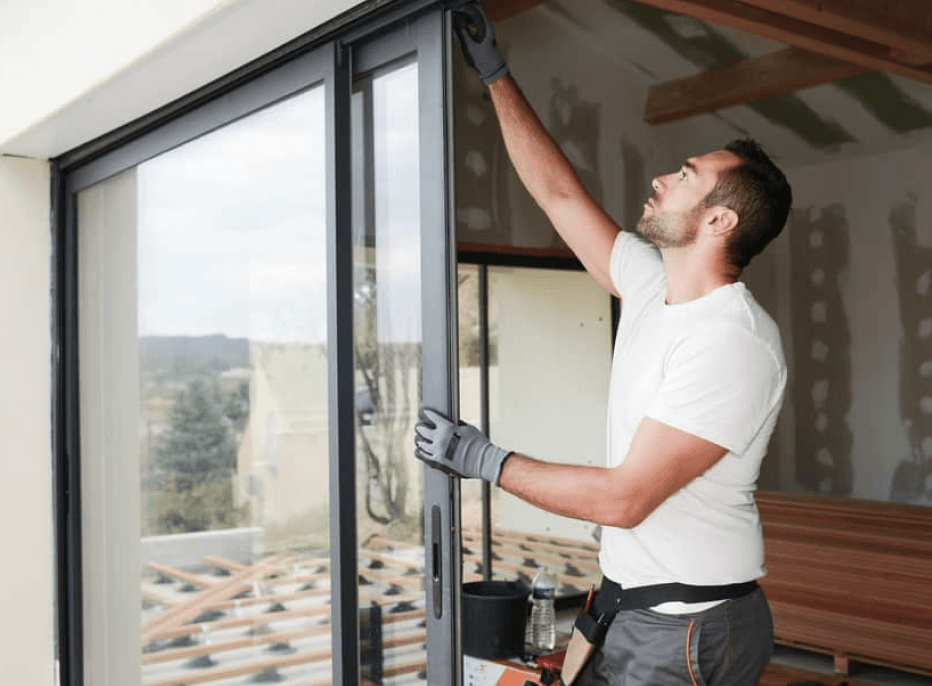 New doors fitted nationwide by trusted & vetted experts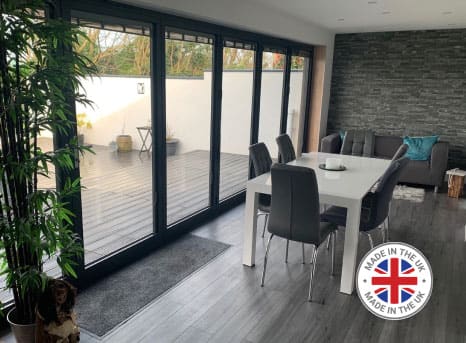 All of our doors are backed by a 10-year warranty and options for insurance-backed guarantees to give you peace of mind that you're fully covered.

Our Promise
We price match any like for like new door quote
Upload your Quote
We also match your price or we give you a £25 Amazon voucher. Doors only.
Key Points
Durable with an estimated 35 year life span.
Low maintenance.
Made-to-measure.
Manufactured in house.
Secure and thermally efficient.
GRP skin.
Profile
Realistic Glass Reinforced Polymer (GRP) outer skin = wood-grain textured finish.
44mm thick panel.
70mm reinforced uPVC frame.
Composite Doors do not warp or twist according to weather, like timber doors.
White on the inside as standard.
Security
Compliance with PAS 24 2016 security standard.
Locking mechanisms make them auto-fire doors
Timber lined panel that improves rigidity and security.
Anti-Pick, Anti-Drill, Anti-Snap, Anti-Bump cylinder.
Multipoint, hooked door lock system.
All doors comply with current building requirements and include safety glass as standard.
Thermal Efficiency
Provides up to 6x more thermal insulation then timber doors.
Double or triple glazed glass.
Built upon a high insulation core - tested to British Kitemark standards.
Achieve a u-value of 1.4 W/m2 K= exceeds thermal efficient requirements.
Design
11 Colours to choose from.
Range of glass design/backing glass options.
Range of 36 different styles.
Comes as standard with a door, frame, locks and handles that meet all EU and British Regs, and 3 keys.
Accessory options include knockers, letter plates, spy holes, low aluminium thresholds, sill, lever/pad configuration, door chain and numerals.